Another great week is in the books, and I'm excited to share 5 awesome things from it.
1. Hour Of Code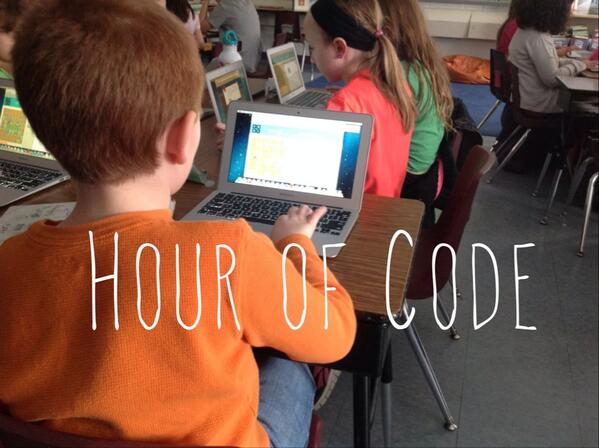 On Friday, we welcomed two high school students into our classroom to help us celebrate Hour of Code. I didn't really know what to expect, but I'm all about trying something new.
The hour was magical. I loved watching their little hands work through their coding lessons. The thing that I loved most was seeing which students excelled in coding. I was shocked to see which kids took right too it. 
2. Mock Caldecott
We are wrapping up our Mock Caldecott unit and our opinion writing unit. During the week students worked in partnerships to write a piece to convince each other to vote for the book that they think deserves to win. I loved watching them use what they learned in the two units to create a beautiful piece of writing.
3. Because of Winn-Dixie
The highlight of the week was finishing our class read aloud of Kate DiCamillo's Because of Winn-Dixie. I wrote about on Tuesday in my Slice of Life post. Finishing Winn-Dixie was a magical moment.
4. Nerdlution
I have written for almost 20 consecutive days. A big reason for that is the Nerdlution community. Thanks, friends!
5. Nerdy Book Club Friends
I am so blessed to have met so many wonderful friends through Twitter and the Nerdy Book Club. Because of one of these friends, I was able to purchase Rose Bowl tickets to see my beloved Spartans play in Pasadena in January. It is amazing think about how many amazing things have happened to me because of the people that are in my life. I feel truly blessed.